I have been trying to get this post finished for almost a week now. But between filling orders and end of school year activities, seems it kept getting pushed to the back burner!
Seems the older I get the more spontaneous I become. I no longer like to "plan" for the big vacations or long weekends. (I leave that to hubby now.) When I get the urge, I just want to hop into my car and drive! So, it was little wonder that last weekend became a spontaneous decision to drive down to Portland with hubby for an overnight stay. Our original plans were to drive over to Spokane to attend The Farm Chicks Antique Show. But on Friday night I had to work at our elementary school's carnival. And after four hours of non stop walking, lifting and bending, I knew I'd be in no shape to get up bright and early and drive across state. I would have been happy to sleep in on Saturday morning altogether, but hubby was already geared to go SOMEWHERE! So Portland it would be. Weird and wacky Portland! Besides, I needed a "fabric fix" at my FAVORITE store! The Fabric Depot is the largest fabric store in the country. And it's less than three hours away!! So a trip to Portland is NEVER too far in my future!

After many, many months of rain and cold and rain and rain, we had a gorgeous weekend. The sun was shining bright and there wasn't a speck of white in the sky. We had a beautiful view of Mt. Rainier as we were leaving. Not a bad shot as I was driving down the road!


With the gorgeous day came a perfect view of Mt. St. Helen's as we approached the halfway point to Portland. As many times as I have driven this route, this is only the third time I've had clear enough skies to see this beautiful view. Can you imagine what it must have looked liked before she blew her top?
And of course, Portland has it's own beautiful mountain, and she was out shining bright. We stopped at a roadside view point to get this beautiful shot of Mt. Hood, with the Willamette Falls in the foreground.
We ended up actually staying just across the river from Portland on the Washington side. Our hotel was right on the river and we had a beautiful view. I enjoyed watching the tall sailboats come through and watching the "lift" bridge go up and down. Geez, the simple things that will keep me occupied!
But even better...we were in walking distance of Joe's Crab Shack. We don't have those up here in Seattle, so when we're down there it's our favorite place to eat. Here's hubby getting ready to dive into his pot of crab. I think I might need to get a few of those "bibs" for ALL of his meals! Sure would save me on those stain sticks! That's what happens when old age comes a creepin'! hehe! And by the look on his face, I think that may have been what I had just said to him!
But the majority of our two days down there were spent rummaging through antique and junk stores throughout the Portland area. I don't know, but I think the folks in Portland have a hard time parting with their antiques. That's the only reason I can see for the high prices on everything. I mean...I am ALWAYS shopping for certain items up here and know what I'm looking for and know what I've paid in the past. So when I see things for twice...even three times as much as what I'm use to paying...well, maybe they know something about their antiques that no one else knows! LOL! But I did manage to scrounge up a few things, so it wasn't a total wash.
I've always loved birdhouses and I like decorating a bit shabby, so I was pleased to find this tall steeple bird house at a great price. I think my favorite piece, though, is the bright yellow enamel water pitcher. This one's a sure keeper and will soon have some nice fresh flowers displayed in it!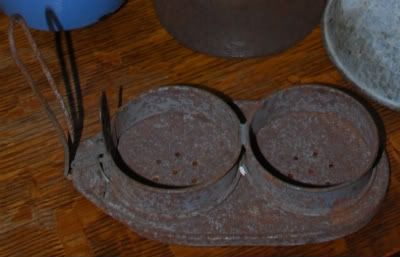 I love this piece...but can ANYONE tell me what it might have been!!
Here are some great pieces that I will use in my OOAK pieces. All are either enamelware or rusty pieces.
I was so excited to find these buttons. She had them marked down to 50 cents a card!! Most are shanks that I will use on my 3-tiered pin keeps. The others will be used as cat and bunny eyes.
And finally, when we got home on Sunday evening this is what we were rewarded to. In preparation of our upcoming holiday...I call this our "Patriotic Sky"! I've seen some beautiful sunsets out here, but this one was just so unique. Don't think I've ever seen it so vibrant! And then it was gone in an instant!
And now I'm gone in an instant! Have a great week! ~~Annie